Toyota Means Business With A Free $1,000 Caltex Starcash Card*
Order any selected new Toyota 2.0 or 2.5 tonne 8FBN battery electric counter-balance forklift and get a free $1,000 Caltex Starcash card.*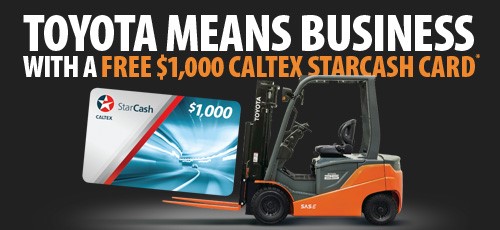 Disclaimer:
*Free $1,000 Caltex Starcash card awarded on either the purchase or the minimum 5 year (60 months) rental of an eligible new Toyota brand forklift model. Your order for an eligible forklift model must be placed between 1 June 2018 and 31 July 2018 to qualify for this offer. Eligible models are: Toyota 8FBN20 and 8FBN25 battery-electric counterbalance forklifts. Offer only available at participating Toyota Material Handling branches and subject to change without notice and whilst stocks last. Available to private buyers/renters only. Subject to availability, your Caltex Starcash Card will be delivered on delivery of your forklift, however please allow up to 4 - 8 weeks for delivery. Caltex Starcash cards are issued and administered by Caltex Australia Petroleum Pty Limited and use is subject to their terms and conditions. Orders for purchase cannot be cancelled except with TMHA's written consent and on terms which indemnify TMHA against losses, damages and expenses suffered or incurred by TMHA as a result of that cancellation. Rental of eligible forklifts is subject to the terms contained in TMHA's rental agreement. Images used for illustration purposes only.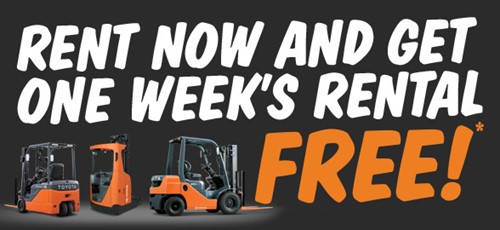 Rent any Toyota Material Handling forklift for 6 months or more and get an extra week's rental free*
Disclaimer:
*Applies to Toyota Material Handling forklifts rented between 1st July - 30th September 2018, with a rental period of 6 weeks or greater. Offer of one week's free forklift rental cannot be redeemed for cash. Offer applies to new rentals only and only applies to stock available at the time of hire. You must mention this offer to redeem the one week's free forklift rental. For more information contact your Toyota Material Handling Branch. Images used for illustration purposes only.