When you have to make every cent count without lessening productivity, renting from Toyota Material Handling is the smart choice!
The benefits of renting a forklift from Toyota Material Handling:
We have Australia's largest forklift rental fleet with over 23,000 forklifts
Forklift rentals from 1 day to 5 years with flexible finance options available
We manufacture and retail world leading forklift products renowned for quality, durability and reliability
We offer the complete range from hand pallet jacks up to specialised narrow aisle warehouse forklift and material handling equipment
We support you with a national factory-owned branch network with tailored forklift servicing and parts back-up
We are the world's largest forklift rental company and with that comes the expected level of expertise and trusted Toyota reputation that can truly help your business
Over 50 years of supporting Australian forklift users - here for the long run So if you want to make the smart choice, call Toyota Material Handling today.
Week's Free Rental Offer Disclaimer -
* Applies to Toyota Material Handling forklifts rented between 1st July - 30th September 2019, with a rental period of 6 weeks or greater. Offer of one week's free forklift rental cannot be redeemed for cash. Offer applies to new rentals only and only applies to stock available at the time of hire. You must mention this offer to redeem the one week's free forklift rental. For more information contact your Toyota Material Handling Branch. Images used for illustration purposes only.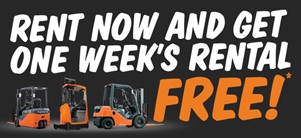 Toyota Material Handling offers a complete range of forklift hire and rental plans
For some businesses, hiring or renting forklifts makes more sense than buying it outright.

If you are after a forklift to rent for one day, or for up to five years, Toyota Material Handling has a rental  solution for you. We offer an extensive range of forklifts and warehouse equipment available with either short or long term rental options. Maximise flexibility with our fleet rental/management programmes - your fleet can change to match your needs. 

With rental, you know and control your forklift budget in advance and optimise operating costs by adjusting your fleet size to the minimum number of units needed. And you can adapt your forklift fleet to sudden peaks in demand, based on unforeseen circumstances.

Toyota Material Handling's forklift rental agreements are tailor made to your specific requirements. Long Term  forklift rentals give you all the benefits of use with none of the risks of ownership. Short term forklift rental solutions can help your react immediately to a situation with a predicted cost. Other benefits include a single point of contact and simplified fleet management.
Our forklift rental programme is backed by the strength and flexibility of our branch network. Whether you need short, medium or long-term rental, we are your partner for cost-effective, peace-of-mind solutions.
So whatever your forklift rental needs, contact your local Toyota Material Handling representative.

Benefits
Minimal capital outlay - usually just monthly payments
Flexible terms
Access to the most up-to-date forklifts
Offers the advantage of using a forklift for peak periods instead of long term financial commitment
All scheduled forklift service and maintenance may be included in the monthly rate
TEN Reasons to rent forklifts from Toyota Material Handling!
Long Term Forklift Rental covers the cost of all-fair wear and tear items and repairs over the life of the agreement, which avoids unscheduled out of pocket expenses.
Long Term Forklift Rental costs are deductible against income where as purchases are paid from shareholders' funds and/or borrowings.
Long Term Forklift Rental enables you to work with a minimal amount of equipment reducing the need for spare or surplus equipment. Should the need arise Toyota Material Handling can provide Short Term Rental equipment for peak periods and seasonal requirements.
A Long Term Forklift Rental agreement is not required to be displayed as a liability in company financial statements, where as leases which under accounting standards ASRB1008 require Balance Sheet disclosure.
Cashing in an existing fleet will free up substantial capital, which can be better utilised to promote growth within your business.
Toyota Material Handling Term Rental System delivers operating costs on an annual basis, simplifying budgeting and cost control.
Term Rental provides an edge on inflation operating with today's costs in tomorrow's environment.
Rental provides the means to obtain the latest technology improving operator satisfaction, OH&S and overall efficiencies.
Your businesses valuable management time and skills will be freed up to concentrate on your core business activities.
Toyota Material Handling provide over 20,000 units through our Term Rental System with in excess 3,500 forklift units allocated to Short Term Rental Nationwide.