A survey for Australian material handling conditions.
To find out where we rate in a range of key areas in Australian forklift customers minds, we commissioned Salmat Customer Contact Solutions to conduct the "Australian Forklift Survey" - a survey of forklift owners and operators, across a range of industries and forklift brands such as Crown forklifts, Linde forklifts, Nissan forklifts, Clark foklifts, Hyster forklifts and many more.* 
And unlike other forklift companies that base their research results from surveys conducted overseas, we decided to ask Australian forklift operators and owners what they thought, and what was important to them.
This is what we found out.

Reliability - it's what Australian businesses look for in a forklift.
When survey respondents were asked "when evaluating forklifts, which forklift attributes are most important in the purchase decision making process?" the majority said that reliability was the most important attribute for them.*#
We understand because it's important to us too. Toyota's range of forklifts are developed by personnel who utilise the advantages of Toyota's advanced manufacturing technologies, and built to the same exceptional standards of quality and reliability as the company's automotive products.
And it's that famous reliability that is evident within Toyota's automotive range, like the popular Camry, Landcruiser, and "unbreakable" Hilux, that also goes into each and every Toyota forklift.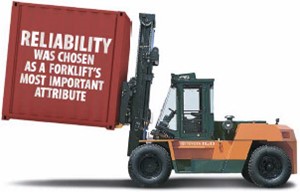 Quality - Who stacks up as Australia's forklift quality leader
Toyota forklifts have earned a strong reputation for engineering innovation in materials
handling, with a number of world-class technologies.
Our commitment to continuous improvement leads us to invest heavily in new engineering and manufacturing innovations, enabling us to constantly raise the quality of our products.
This is just one of the reasons why 63% of survey respondents rated Toyota forklifts as being the brand leader in quality.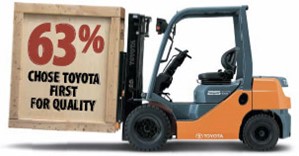 Value - Australians know it when they see it.
At Toyota Material Handling we understand that value not only relates to the cost of running your equipment, but also to driver comfort, durability and after sales support.
Toyota forklifts are not only ergonomic and energy effi cient, but also built tough and made to work. Our national branch network of service and parts support ensures your forklift remains working, assuring excellent resale value when the time is right.
It's all part of the Toyota Advantage, and just another reason why 59% of people surveyed picked Toyota as their value first choice.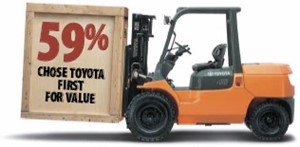 Productivity - Which forklifts are the most productive?
Businesses want forklifts that maximise the efficiency and productivity of their material handling operations. With excellent fuel economy, high up-time, and heavy duty engines that offer fast acceleration and lift speeds during stacking, loading and unloading goods, Toyota forklifts offer just that.
And that's why 59% of people surveyed chose Toyota as their first choice for productivity.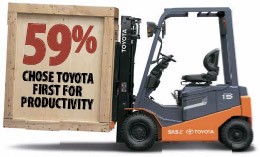 Lowest cost of ownership - Who's No. 1?
Forklift purchase price is just one component of a forklift's cost.
Total cost of ownership represents the potential related expenses of a forklift in addition to the acquisition cost, including depreciation, insurance, fuel, downtime, maintenance, parts and repairs.
Adding all of these expenses together gives you a true picture of why Toyota forklifts rated number one with 60% of survey respondents placing them first for lowest cost of ownership.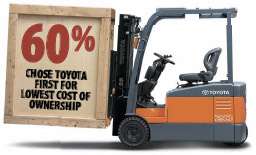 Safety – The Australian choice is Toyota.
As the focus on workplace safety increases, Toyota's System of Active Stability™ (SAS)** stands out as technology that actively helps reduce the risk of forklift accidents.
SAS constantly monitors forklift operations and automatically takes corrective action when it senses factors that could lead to forklift or load instability.
Its advanced functions work together to keep your driver and goods safely on the move - and your productivity on the up.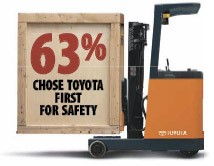 But don't just take our word for it.
Leading Australian magazine Materials Handling and Distribution conducted their 2012 Forklift Survey.#
Participants were asked to rate forklift brands via the question "In general, what is your opinion of each of the following forklift manufacturers?"
Crown Forklifts
Linde Forklifts
Nissan Forklifts
Hyster Forklifts
Mitsubishi Forklifts
Yale Forklifts
Jungheinrich Forklifts
CAT Lift Trucks/ Forklifts
A whopping 63.5% of respondents rated Toyota as "very favourable", the highest rating given to any forklift brand.
Also, when respondents were asked the question "when planning to purchase/lease/rent forklifts, what is the first forklift brand you consider?" Toyota came out on top, with 41% of people selecting Toyota.
Toyota's commitment to excellence and continued improvement is the key to its success, and a major reason why so many customers continue to buy Toyota forklifts time and time again.